I started packing up some of our Winter clothes yesterday, in the storage bins we bought from Ikea. Turns out, they don't fit under our bed. Agh. Also I bought them so long ago that I doubt I could return them, and I'm not sure if I even have the receipt anymore. Luckily I only bought 2 and they're only $10 a piece. Right now I'm thinking that once our guest room is cleared of bathroom stuff (in 2016 maybe?), we can put the storage bins at the bottom of the closet, stacked up, with some of our other seasonal items or less-worn items hung up, like Philip's jerseys. We don't really have guests, and this way we could easily get at the clothes if we need them.
Skubb Storage Case from Ikea.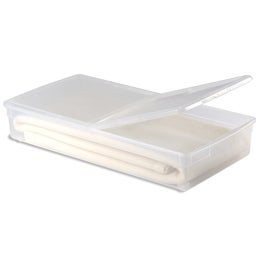 Where do you stand on the cloth vs. plastic underbed storage? This one is from The Container Store.
What would you do if you bought underbed storage a few months ago and it didn't fit? Also, I'd say on the cloth vs. plastic I kind of like the cloth ones, they're a little more flexible to fit more clothes in if you want.