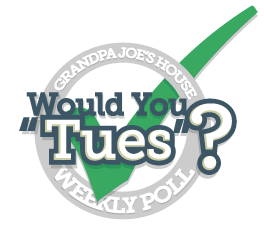 This past week, we asked what you wanted for Christmas. A majority actually wanted practical things, which is surprising, and certainly is not how Philip makes his Christmas list most of the time. I do like things of a more practical nature, but prefer if they're things I may not have bought myself or didn't want to spend the money on.
This Christmas, we're definitely hoping for some practical items as we've been dropping a lot of money lately and every little thing helps! Some tools for Philip would be great as we've been borrowing a lot of them from our parents, and any decor items are top on my list so we can keep accessorizing this place!

Now, on to our Christmas lists!
Cassondra 3 Christmas Wishes
I have a lot of trouble making Christmas lists, my mom never bought us things off of them so putting things on a list was basically asking to not get those things. She always gets us amazing gifts, just thinks of them herself. So from there stems my aversion to Christmas list making. I did make a list this year, but I can't even think of how to rank them.
1. Personalized Artwork

One of the projects I'm really excited about in this house is getting more personalized artwork up, I really want our house to be ours and show all the things we love. Philip is handy at computer artwork and things like that, so we'll probably end up making a lot of our own, but here are some artwork pieces that have really been inspiring me lately!
2. Raclette
At Philip's parents house on New Years Day we always have Raclette. It's a great tradition and I love that kind of eating, where you sit around talking eating a bit at a time, sort of like fondue. I'm hoping to get my own someday soon so we can invite friends over and enjoy that tradition on more than the first day of the 2013.
You melt cheese on the bottom and then put it over the grilled potatoes, meat, etc.
3. Tickets to Something/Going Out Gifts
Since working on the house has taken up a lot of our extra cash, one of the gifts that I appreciate is restaurant gift cards, tickets to an event, etc. that Philip and I can enjoy without worrying about our wallets. We've definitely been low on date nights and so a night out is always a great treat.
Philip's 3 Christmas Wishes
In our relationship, Cassondra is definitely the Chief Listmaker. Her lists have lists. ("The 5 Lists in my Purse Right Now." "The 8 Best Things About Lists." "212 Ways I will get revenge on Philip for making fun of my love of lists on the blog.") But at Christmastime, I take the lead.
In my family, my Christmas List is an annual event. I typically put an inordinate amount of time into them, cataloguing items by category, listing prices and places where you can purchase the items, and even theming the lists. (Most memorable was the Da Vinci Code-themed list from 2007.) I go beyond the typical list and research, catalogue, curate, and publish a veritable Christmas buying guide for me.
And then, this year, I scaled back. There are categories, but it's all straightforward. There are no prices. No Amazon links. Just the basics. I grew up found a new passion, my very own castle to manage, repair, and upgrade.
But that doesn't mean I didn't submit a list. Oh no. Can't leave something as important as my Christmas gifts up to chance. So without further ado, these are the top 3 things I asked for, in countdown fashion:
If you've ever met me in the summertime, you've seen my sunglasses. Winnipeg is one of the sunniest cities in Canada, and for whatever reason (perhaps the Lasik I had done a few years ago?) my eyes are particularly sensitive, so I wear my sunglasses almost incessantly; if they're not over my eyes, they're temporarily flipped atop my head like a real cool dude poser dork (hahahaha! Revenge #1 complete. –Cass)
Problem is, the lenses on my Oakley Fives 2.0 that I Love with a capital "L" are scratched like crazy, and that model has long been discontinued. It soon will be time to send them up to the great, ummm, underside-of-a-ball-cap-visor (?) in the sky. And so as a pre-emptive strike, I'm hoping for some new shades under the tree.
Blue Like Jazz
is probably my second-favourite non-fiction book of all time. (I may have a list for that too.) And I knew author Donald Miller and Steve Taylor were working on a movie of it thanks to Miller's excellent follow up book A Million Miles in a Thousand Years (which may also be in my non-fiction top ten).
But then, the funding didn't come through. And the film was dead.
Except it wasn't. Thanks to two enterprising fans and Kickstarter, the movie crowdsourced over a third of a million dollars, and I was one of the contributors to that effort who thus have their names among the credits as "Associate Producers." (I have the t-shirt to prove it.)
Only problem is,
Blue Like Jazz (The Movie)
never opened in theatres in my city. And so I still haven't been able to see the movie.
And to top it all off, my favourite magazine (RELEVANT) helped promote the movie, and as such has a special edition of the movie for sale in its store with exclusive features which may or may not have Donald Miller reading snippets of Christian romance novels aloud while wearing a snuggie.
And now that you know that Movies+Donald Miller+RELEVANT Magazine=my sweet spot, and it could only be theoretically topped if the movie starred my wife and/or the Winnipeg Blue Bombers, what could possibly be #1?
This one's for you, folks. Well, technically it's for me. But as this blog has become our way of sharing this renovation process with you, it's also for you.
So far, most of the work that we've done has been done with the use of the graciously-lent-and-gratefully-borrowed tools our parents or friends own. And while that can work for a while, there comes a time for a man to step up and get his own power drill and drill bits, 7¼" circular saw, random orbital sander, electronic stud finder, staple gun, and more.
This is in direct violation of my one-time distaste for practical gifts. As recently as a year or two ago, I rejected the idea of getting such items as gifts. Practical gifts didn't send me giggling with fits of glee because I was going to have to buy them myself anyway, so unwrapping them was just preventing me from having to go to the store myself.
In fact, I still see some of the logic in that. However, something has changed.
It's called a mortgage. They're called bills. They're called "not having unlimited resources with which to buy everything you might purport to need."
So now, I'm all on the practical gift train. Tools? Yes, please! Clothes? I'll wear 'em with a smile! A 4-litre jug of milk? Sure, why not, I'll pour that on my cereal. Rolls of toilet paper? Okay, let's not get ridiculous. But you get my drift. I'm hoping that, over the next few birthdays/Christmases, I can accumulate my own personal arsenal of tools and the skills to put them to use, making Grandpa Joe's House into everything it can be.
Share your Christmas wishlist in the comments! We'd love to get some inspiration for the birthday lists we'll soon have to make (okay not that soon).
This week we'll ask about your favourite holiday food, you know our mouths are watering already waiting for some of the delicacies we're going to feast on.