Happy Saturday everyone! Philip here. This was supposed to be the latest Friday Phil post, but turns out I bit off more than I can chew with this one. That's why you got Saturday's usual "Other Stuff" post early. That's also why ths'll have to serve as Part 1 of 2 (or more, if I come up with more ridiculous pipe dreams).

Today's post is a doozy of pure Philip-ness, so be forewarned!

Since before I became a homeowner and therefore master of my own decorating domain, I've dreamed of creating spaces that isolate down the most pure representations of my interests. As a kid, I really wanted a Lego room. Not a room made out of Lego, but a room overrun by a Lego universe. And although that still sounds seriously awesome, these days, beyond Jesus/Cass/family/friends, there are two interests that rise above all others: Sports and Movies.
Today, I'm going to talk about my Dream Sports Room.

Okay, before I begin, I admit it: as the title suggests, this is a bit of a pipe dream. The room I'm envisioning is heavily customized and would be horrible for resale (except for someone with the exact same interests as me, who might still hate it). It wouldn't necessarily be kid-friendly. It would take up the lion's share of our basement. It would be expensive. For all these reasons, my wife would hate it. But I share this with you because, if we do not have our dreams, what do we have?

First off, the main function of the room would be a place to relax with friends, to watch sports and play games like pool and table tennis. For this reason, the room would need to be fairly large; a full-size basement rec room should suffice, provided you can convert the pool table into a ping pong table. (Is that a thing, beyond kiddy-sized tables? It so should be. I'm gonna check it out. I'll check back with you in a bit.)

Anyway, the room is divided into half lengthwise and widthwise, as to make four distinct sections? Why do we need four sections? Because my love extends to all four major sports. (For some of you, the horror of what I'm about to roll out here is beginning to take hold.)
The quarters would be distinguished in a few ways. I was going to describe it all for you, but I figured I'd save myself a few thousand words and draw some pictures. Notes to highlight the important parts are included.
Baseball Quarter: Welcome to the Sports Room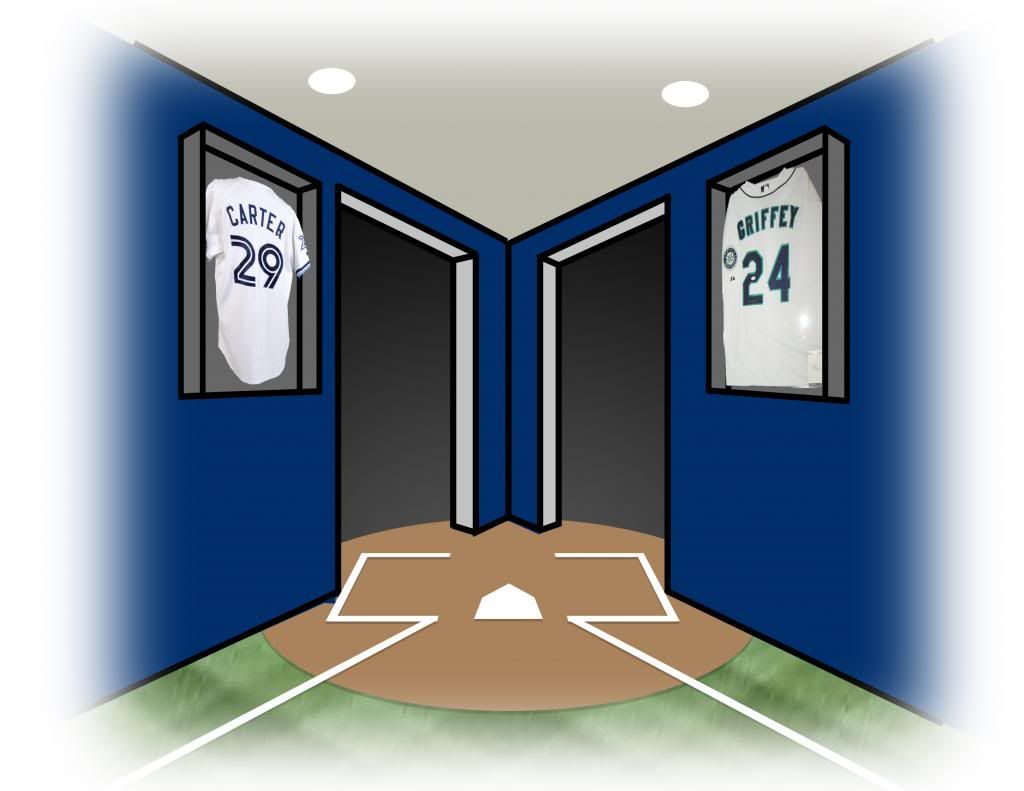 This part is modeled after my favourite baseball team of all time, the 1992/1993 Toronto Blue Jays, repeat World Series Champions.

This corner would serve as the primary entryway into the Sports Room; as a result, the size, level of customization, and usefulness of this area is limited. ("Limited?" you say. "That doesn't look like 'limited' customization!" Just you wait, my friend.) Suffice it to say, I love baseball, but when push comes to shove, it's the sport that most often takes a back seat.

The walls are Blue Jays blue. Obviously.

The walls feature some framed jerseys

, which I collect.*

The flooring is again customized: using various colours of carpeting, we would recreate the look of a baseball diamond, particularly the home plate area. I like how this opens up the room using the baselines. I would also find it very difficult to exit the room from the left side of it, simply because you can't go straight home from 1st base.
*At this point, that revelation shouldn't come as much of a surprise.
Basketball Quarter: Ping Pong/Pool Table Area
Modeled after my favourite basketball team of all time, the '97-'98 Chicago Bulls, and their home, the United Centre. It'd be one of the bigger areas of the room, simply because a pool/ping pong table would be a fairly large installation. Plus, as a pre-teen in the Bulls' heyday, those teams rocked my world.

The walls are painted Bulls red. Again, obviously.

The flooring is hardwood. Yes, I'd be tempted to put down parquet, because it looks cool and a basketball-themed area begs for it, but a) I'm no Celtics fan and b) the United Centre doesn't have it so I won't. The hardwood would have lines painted on them to mimic a basketball sideline, baseline, three-point line and key.

You can't see the Table Tennis/Pool table. The photo is taken from where it would be set up. How would it be basketball themed? Good question. There are 6 pockets on a pool table, the same number of NBA titles won by the Bulls in the '90s. Or we could just draw basketball court lines on the felt/hard top of the various tables. I haven't quite figured this part out.

A half-sized hoop and plexiglass backboard would hang on one wall.

Along the sideline, for those not currently in the

(pool or table tennis)

game we would have folding chairs designed to look like the players' bench, down to the Gatorade towels hanging over them.

Hanging on this wall (and on either side of the hoop) are framed jerseys

and my framed Michael Jordan: Wings poster, which is currently languishing in the basement, waiting for its place of honour.
Well, that's Part 1 of my Sports Room. Next week I'll reveal the other two corners of the room, which in my humble opinion are the two most creative, as well as a bird's-eye proposed layout for the room, because I know you're clamouring for it already!
In the meantime, use the comments below to let us know if you've ever had a dream for a crazy, resale-unfriendly room based on an interest of yours? Or if you're into sports like me and you made a sports room, how would you customize it?