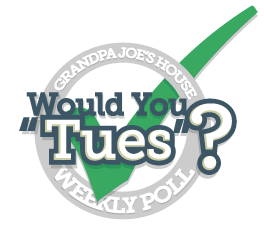 As you know, the poll was extended after last Thursday's post. This is because I remembered a fun tradition my friend and I had, which was that every Tuesday we would ask each other a poll-type question and call it "Would you Tues" (pronounced to sound like choose - or in this case something like Tch-yooze).
The results are in, and most of you are further than we are in holiday preparedness, but there are a few procrastinators out there.
Here's where we're at in our decking of the halls:
Tree:
Last year we didn't have one, we'll see what happens this year! I'm a "real tree" person, but I do have a hand-me-down fake tree in the basement that we might use this year. As of right now every nook and cranny of our living room is filled with books/gift wrap/wall art/etc. that is meant for the two rooms that are being reno'd right now; as soon as those are gone I'm getting that tree up! Boxes of books everywhere doesn't exactly scream beautiful Christmas party decoration.
As for other decorations, they really add up so I've been trying to slowly accumulate them this year. Last year I got a few ornaments from relatives, this year I've made my pine cone craft, and I just purchased this cute light up white tree decoration from Ikea (I don't know the scientific name for it which is why it ended up with that long run-on name), hopefully I can keep building on that until I have a proper Christmas collection!
For this year, our tree will likely look something like the below, with a variety of homemade when we were in elementary school ornaments, and no general theme of any kind. Definitely homey and much like what I grew up with at home, although as soon as I moved out my mom was ready for a beautifully put-together tree with ornaments that all came in a set together. Stay tuned for a beautiful tree photo, hopefully it happens this week!
Probably still better than how our last-minute Christmas Tree will look.
Gifts:
We have 20 gifts to buy this year, and so far I am completely done 6 of them, with 2 others started and 12 with no progress whatsoever. Hopefully after we're done these bedrooms and have the bathroom underway I can focus on shopping. I do love Christmas shopping and thinking of things for each person, but 20 people is a doozy! Also no idea what to get for Philip this year (we greatly lowered our budgets since we've been buying a lot of new things lately) so if anyone has any suggestions I'd appreciate them!
Events:
This past weekend was our last weekend of freedom before we commence 2 parties a weekend for the entire month of December...ay caramba. I'm really looking forward to the festivities and all the parties will be fun - but it also means 4 weekends of not a lot of house productivity. The other main event planned for Christmas (we have to reevaluate this plan as some things may need to be ordered and not come on time) is completely gutting and renovating our bathroom. My parents have work off over Christmas and offered their labour over the week, so we're really pushing to be ready for them while we have the help. This coming weekend we start with my mom's side of the family and our church young adults group (this is the one we're hosting), followed next weekend by my friends and my dad's side of the family, followed by the real deal Christmas Eve and Christmas immediate family celebrations. In amongst that we'll also have our church services for Christmas Eve, which Philip is pretty involved in on the drama side so there are a lot of practices and things like that added into the mix.
General Christmas Cheer Levels/Emotional Preparedness:
Cassondra: As far as being stoked for Christmas, I'd say that my level of Christmas cheer is moderate. I'm really excited to put up decorations and for all of the events that we have planned, but that is being slightly crushed by the lists and pressure to finish these two bedrooms and get the bathroom planning into high gear. I'm just hoping that we can get this all under control to some extent by the end of this week so that we can focus on family time and relaxing a little bit over the Christmas break. Luckily Philip gets a week off at Christmas so that will be really nice, as long as it doesn't get totally taken away by bathroom gutting.
Philip: Philip is busy caulking in the bedroom right now so I'm taking the liberty to write this for him after walking over there and asking how excited he is for Christmas. He is primarily in denial, as house stuff and church drama production things are sort of stressing him out. I asked him what he's most excited for though and - Cass family shout out - he said my family gathering on Saturday. That shows you how great my family is, that a gathering at the in-laws is the thing he's most excited for at Christmas time so far. We'll have to tell you a bit about our gatherings sometime, they are definitely unorthodox - and as a sneak preview you should know that this Saturday at our family gathering we are to come dressed in '80s workout attire (add going to Value Village for neon coloured spandex to the Christmas to-do list).
In case you're one of the procrastinators out there, just remember, "The best way to spread Christmas cheer is singing loud for all to hear." Try it out sometime, I imagine it's effective.
This week, tell us what you'd like to receive for Christmas! I have to admit so selfishly that I am looking forward to getting gifts more than ever this year. I know this sounds terrible...but it's just the truth. We've been so busy with house stuff and constantly on a budget that being able to bask in some free treats that I may not have been able to buy for myself sounds glorious. Next Tuesday when we wrap this poll up we'll share a few of the things on our Christmas lists too, Philip is a very in-depth Christmas list maker so it should be pretty easy for him. Make your votes people - and as a reminder, we've learned that iPads don't allow comments or poll votes, so get your computer out!