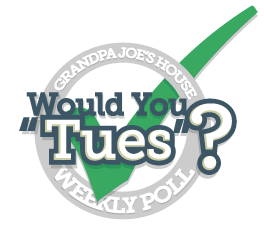 Yum, we love a food poll almost as much as we love holiday food. Philip is a huge dessert guy (although maybe not as much as his brother Jonathan - they'll have to have a head-to-head sometime), and I love the different foods we get to eat at this time of year, learning a new recipe to share with family and friends is always great.
My mouth is watering as I think about it all! Only one food was not so loved in this week's poll, and that was fruit cake. I can't defend it or side with you, I've never tried it, maybe this year I'll give it a go (but probably not).
I don't even know which food to choose as my favourite, I think I might have to go with egg nog. I haven't bought any yet this year, holding out until the week of Christmas just so we don't drink too much of it as it's certainly not the healthiest of beverages.
One of our favourite foods to craft at Christmas time, a tradition we started last year was making homemade Christmas flavoured ice creams in our ice cream maker. We thought they would make nice gifts for some of the acquaintances that you'd like to give a little something to.
They are worth the judgmental looks and inner shame that I feel every time buying whole milk and heavy cream in large quantities to make these tasty treats.
Last year we made egg nog, gingerbread, peppermint, reindeer (chocolate with cherry noses in it), and Bethlehem Sky (blueberry with yellow stars). They were a bit hit, my favourite probably being egg nog. This year we're in charge of dessert at our Wiebe family gathering so we're planning to make 4 or 5 kinds again to share with our relatives.
We're thinking of making:
Egg Nog again - it's a classic for this time of year
Salted Caramel - we tried it at Thanksgiving and it might be my favourite homemade ice cream so far (besides rhubarb ice cream which I mentioned a while back).
Sugar Cookie - a twist on the traditional cookie dough
Cranberry - found this recipe that sounds incredible
Maple Walnut Ice Cream - one of my favourite flavours to get at an ice cream shop, found this recipe when looking for a photo to put in this post
We might also need some accompanying treats, maybe these
chocolate hazelnut tarts
(my in-laws go crazy for anything hazelnut), or some classic Christmas cookies.
What are you planning to cook up this Christmas? Anyone taking on way more than us and hosting their family gathering this year? Tomorrow I'll tell you about our Christmas tree set-up, so answer our Christmas tree related poll!