Yesterday you heard about my date jar gift to Philip, and so today we'll be talking about the homemade gift that I received from Philip. While it is Friday and Philip is the typical author of today's post, he's busy enough writing the drama for our church's dinner theater (at Eastview around Valentine's Day if you want to mark your calendars), so I'm taking this one for the team. I won't try to incorporate him in this post with a painting like I did my date jar yesterday (phone randomly fixed itself, so there is an actual photo over there today!)
When preparing to write this post he emailed me everything I'd need to know about how he came to make this beautiful craft, and so hopefully I can do it justice.
After seeing some great pieces of art that featured wedding vows or other wedding memorabilia, I had been hinting pretty heavily that I'd like something similar. Here are a few of the pieces that I had shown to Philip but didn't want to buy because I knew Philip could easily make something amazing and it would be more meaningful than buying it off Etsy.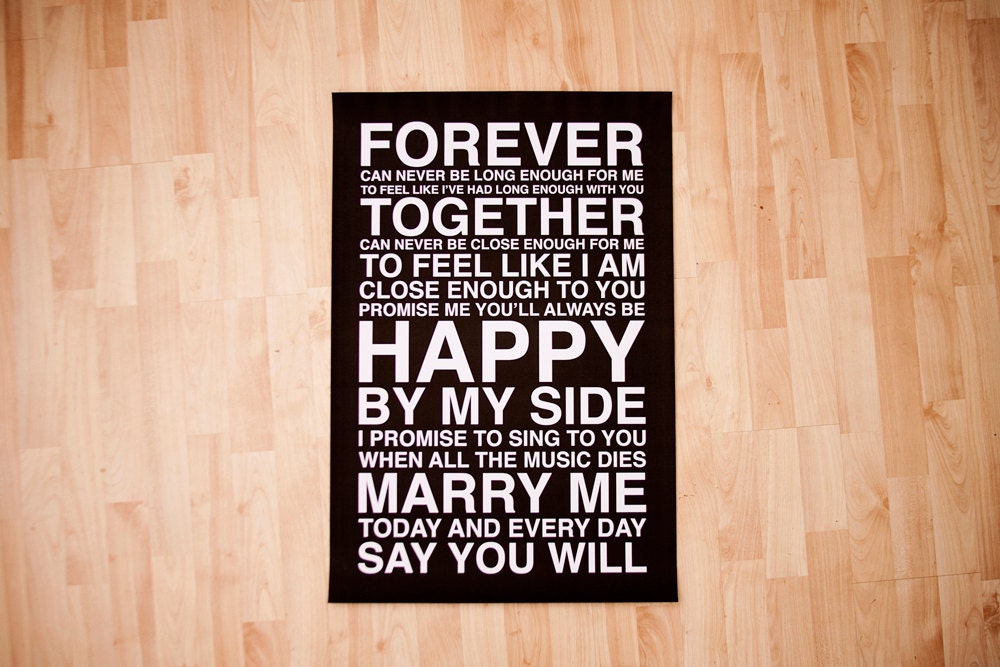 While I don't need Train lyrics on my wall,
I like the graphic feel from Alexander Creative.
I really love the idea of personalized art (I think I've mentioned that before), and so it was really thoughtful of Philip to take that into consideration and make me an amazing Christmas gift.
Philip started with a completely different idea than what he ended up with. Beginning with an owl inspired (due to the owl trend that's invading the stores these days - and I might have allowed it to come into our house a bit) piece.
While this is really cute,
I'm so much happier with what Philip ended up with!
The goal with the owl artwork was a layered and textured feel, looking custom and professional, but also really cute and fun. It didn't work out because pencil crayon on black construction paper didn't work as well as Philip had hoped, and the owls ended up looking a lot more juvenile (although I do still love the owls that he made and will definitely hang them somewhere) than what the content would call for.
I'll still give a bit of a run through on how to make the artwork above, if it's your groove.
Philip started by printing the vows and adhering them to black construction paper with Post-Its (so that the construction paper wouldn't be damaged when it was removed). This way he could trace the letters onto the construction paper below to achieve the font and look he'd planned.
An innovative use of Post-Its.
Philip had designed the owls ahead of time on the computer so he had a plan when it came time to craft.
Cutie owls, I do still really like them!
After creating the owls virtually, cutting them out of construction paper in layers was a lot easier and well planned out. It turned out so adorable! I can't wait to hang them up. Have I mentioned how talented my husband is? I couldn't make that on the computer, and I'm definitely not a master of using scissors, can't even imagine how long it would take me to make that tree trunk out of the different papers, let alone the owls.
The most beautiful construction paper craft I've seen to date.
These owls get their close up.
Anyway, this craft didn't work out for reasons mentioned above, and overall Philip just didn't like how it was looking. So he moved on to another plan, which took about the same amount of time as this failed attempt.
Philip changed to a simpler design, one that he found airy and knew would look great in the white matted white frame that he'd purchased, as well as on any of our wall colors. He went with the colors from our wedding invitations, yellow and grey, because it was definitely a reminder of our beautiful backyard wedding.
He started similarly to the owl print, by getting the text onto the paper he wanted to use. That's one thing I really appreciate about the artwork he made, he could have easily printed it off the computer, but he hand wrote everything.
Philip wrote our vows in a heart shape, the left side with my vows and the right side his. (In the background you can see how he made a light table out of a reading lamp propped up under our glass desk.)
Philip wrote our vows in a heart shape (you can kind of see that above), the words were written in yellow, with the verbs in grey. The left hand side are my vows to him, and the right side are his. Then at the bottom he included our wedding date, August 6, 2011. I have wanted to have our vows framed somewhere in our house for a while, I like the idea of seeing our promises each day and using them as accountability and reminders of what we want for our marriage.
Philip then cut them out, into two separate heart halves, and glued it on to yellow construction paper, in order to make it a little bit more 3D, similar to the effect that was meant with the owl art.
All done, just needed to cut the mat.
After finishing up, Philip cut the mat to make room for the artwork inside. I love how it has a bit of a monochromatic and airy look, will definitely go with any kind of paint color or decor that we have in the room it hangs in.
We opened our gifts first thing in the morning, which is why I'm looking a little sleepy and wearing an always flattering Seattle Mariners t-shirt.
I was so shocked to open it and love it like crazy. I can't wait to hang it up in our bedroom with some wedding photos. I still can't believe we've already been married for almost 2 years, it definitely doesn't seem that long!
My favourite part of making crafts for each other was probably the fact that none of our rooms have doors right now, so we worked in opposite corners of the house with Christmas music blasting so we couldn't accidentally hear any hints.
Anyone else make a creative Christmas gift or get surprised by their spouse? Almost done with Christmas posts a week into 2013, on Monday I'll share one other quick anyone-can-do craft that might help with cleaning up your Christmas decorations a bit, and then on to 2013! Make sure to vote in this weeks poll on the Facebook page and on Tuesday you'll hear about our resolutions! Have a great weekend!