This Tuesday we welcome back our regular "Would You Tues?" feature, where we ask you probing, intellectual question (not really) and you answer it.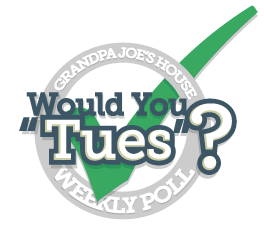 This week, we're wondering: How have you made your current home as beautiful as it is?
b) We bought a new home (built on spec)!
c) We bought an existing home and have primarily hired renovators since!
d) We bought an existing home and have primarily renovated it ourselves!
e) We bought an existing home and have learned to love it as it is!
f) We aren't homeowners yet, but someday we plan to (choose from above).
...and don't forget to tell us why you've chosen to go the direction you've taken!
Answer the question in the comments or on our Facebook page, we'd love to hear from you.
Most of you will know that we bought an existing home, and I'm not sure what the second half of the answer should be. We're fumbling our way through renovations, hiring out the tasks when we need to, learning some of it ourselves, and learning to love a lot of it as is until we can save up time and money to tackle them.
So far we've ripped out our previous boiler system (ourselves), gutted our basement (ourselves), put in a new HVAC system and hot water tank (hired), new windows (hired), gutted our bathroom (ourselves), put in a new bathroom, learned to love the empty room at the end of the hall as is until warmer weather comes and we can deal with some of the insulation issues, redecorated our office and bedroom (ourselves with help), and a few other touches around our new to us house. Check out our Take the Tour page for before pictures, and we'll be adding progress photos one of these days when our house is clean (maybe when the bathroom is done?).
It's all in the journey, and while it's taking us a lot longer than it would take someone handier, or someone who is more able to dedicate all of their time to the project, we're learning as we go and are sure our house will be beautiful when we're done with it in a few years.
Today is about you though, tell us about your house adventures, whether they are buying a new house that is ready for paint and furniture, or have bought a huge project that is going to take years to complete.