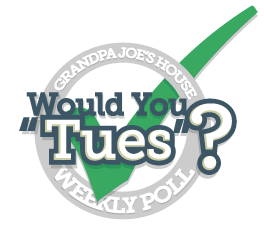 We're going to be switching up the Would You Tues series a bit this month. Philip and I have come up with a few random questions which we'll answer each week, and we'd love if you'd share your own insights in the comments or on Facebook (also as a note to this, we've been working on some behind the scenes blog work for a few months, and soon we'll hopefully have some new features that will make it easier for people on different devices to comment).
Q1: If you found yourself in a back-lane, looking at an old bathtub, what would be your motivation for thievery?
Cass: We heard that some friends from our church used their old bath tub as a fire pit by burying it and having an inset place for bonfires. We couldn't do that in the city, but I love the idea!
Philip: I would be trying to recreate that Cialis ad picture of the two bathtubs overlooking the cliff. Of course, in that case it's acquiring the bathtubs that's the easy part; getting the plumbing to the edge of the cliff is the tougher piece of the puzzle. That, or having a few servants carting hot water over to the cliff; they'd have to be blind, of course--no peeking!--and that would further complicate matters...
Q2: What's the weirdest item on your birthday list?
Cass: It's a tie between Sim City 6 and a body pillow. Sim City 6 looks incredible, but I'm a grown woman who should probably embrace adulthood at some point. Still want it though peeps. Secondly, I sleep on my side with a pillow between my knees. Philip used to hate it and think it was weird, but now almost every night he curls up behind me and says, "Can I have some knee pillow?" I want a new body pillow so we can share easier!
Philip:
It's a weird fact about me that I'm a fan of novelty ice-cube trays. It's not that I'm such a big fan of having ice in my drink--as a kid growing up, we never seemed to have fresh ice cubes on hand--but I just think they're cool. They're one of the few kitchen implements that exhibits real creativity.
To that end, I've put a Fred and Friends "
Gin and Titonic
" ice cube tray on my birthday list, so I can memorialize the loss of Jack Dawson and his 2,223 shipmates every time I want to cool a beverage. (Note: Philip's birthday is this upcoming Monday the 20th!)
Q3: What color do you want to paint the bathroom and why?
Cass:
We already purchased glossy grey vanity, and white accessories galore, so we have a pretty neutral palette so far. Of the two rooms we've painted in this house, both have been hues of blue. Our bedroom is light blue-grey paired with a darker grey and dark accents along with our green and cream duvet. Our office is light blue and a darker blue. However, there's a reason - blue is really calming, it goes with most colors, and we both like it. I'm tempted to go with a blue/grey tone again in the bathroom. It would be really soothing and monochromatic in some ways with the grey and white. I've also debated black. That's me being a rebel. I think we could pull it off because there isn't a lot of paintable wall space when you take into account that one wall is almost all bath/shower, we have a window on another wall, a door on another, and the last wall has vanity, mirror, medicine cabinet, storage tower, etc. Almost all of those things are white. A dark color like black, charcoal, or even a really dark green or navy might just work. I think before I'm ready to decide I kind of want to draw it out from the looking at the vanity view and plan out our tile work and play with some colors once we've chosen floor and tile.
Philip:
You ready for a big surprise? I want to paint the bathroom....
Banana Yellow. It's bright! It's fun! It looks great with gloss gray (our vanity) and white (our cabinets, tub and shower)! I'd be willing to even fake-board and batten the walls (like John & Sherry over at YoungHouseLove did) to get a two-tone look with a little more white into the room! But how can you not go bananas for yellow? Here's another sentence with an exclamation mark!
Who did you agree/disagree with? Have any thoughts on our questions this week? I knew Philip wanted yellow, I could potentially be talked into something mustardier (add that word to the dictionary). Last week we sat down and planned a month of blog posts, so while we haven't been as consistent lately, there are some home events that you have to thank for that so we have lots to share!