After a strep throat-induced sabbatical, we're back in action. The throat is still a bit sore, but I'm officially on no pain killers right now after my first night without them in a week. Strep throat is for sure the worst non-lethal sickness I've had.
Anyway...moving on!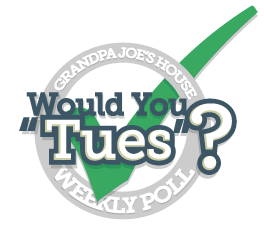 Yesterday was Earth Day, and so I thought an Earth Day themed Would You Tues would be in order.
What will you implement this year to take better care of the Earth?
a) Homemade or natural house cleaners
b) Recycling - behind the times a little
c) Plant a tree
d) Bike to work once the snow melts
As for us:
- Philip takes the bus to work
- We recycle, and with the DIY trend that's coming up, lots of us are searching thrift stores for great finds instead of buying a new product.
- I'm hoping to keep up a small vegetable garden
- I'd really like to try some natural cleaners
Happy Earth Day!